Johnston County Event Calendar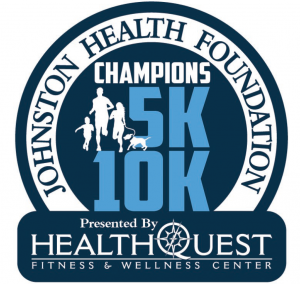 12:00 am
Join the Johnston Health Foundation for our 10th Annual Champions 5k/10k virtual event Saturday, April 10-17. Walk-run in your own space, at your own pace! Proceeds benefit the Johnston Health Foundation's Heart Fund and Healthy Kids Fund.
Apr 17 @ 7:00 am – 12:00 pm

7:00 am
Community Yardsale
Apr 21 @ 7:00 pm – 8:00 pm
7:00 pm
This live stream concert will be broadcast on The Clayton Center's Facebook, as well as YouTube at the following link: https://youtu.be/JczlDas0RzA   Eric Strickland is a singer/songwriter of traditional country and bluegrass music. Born and raised in Four Oaks, his music is an honest look at life's ups and downs, strong family values and the[...]
Apr 24 @ 9:30 am – 11:30 am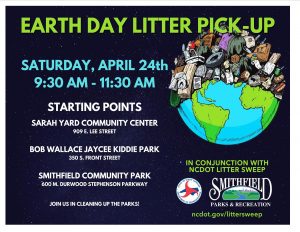 9:30 am
In conjunction with the NCDOT Litter Sweep Smithfield will be having a litter pickup. All participants will receive a tree seedling to plant. There will be three starting locations to choose from.
Apr 24 @ 10:00 am – 12:00 pm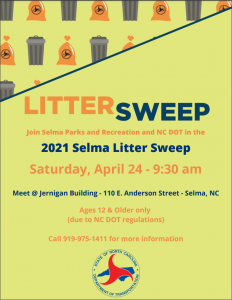 10:00 am
The 2021 Spring Litter Sweep! Join us April 24th as we get outside and help keep our town clean! We can't do this without you. Meet us at 9:30 am at the Jernigan Building (110 E. Anderson Street, Selma) for the safety meeting. We will then head on over to our cleaning site, E. Anderson[...]
Apr 28 @ 7:00 pm – 8:00 pm
7:00 pm
This Livestream Concert will be broadcast on The Clayton Center's Facebook, as well as YouTube at the following link: https://youtu.be/r6rjiVGA2JA "Raleigh native, saxophonist and composer Ron Baxter, is a constant presence on the Triangle Area music scene. His performance ability has led to national and international concerts including tours in Europe (various locations) and South America[...]