NOTICE OF PUBLIC HEARING and SPECIAL MEETING -Economic Development
When:
May 28, 2019 @ 10:00 am
2019-05-28T10:00:00-04:00
2019-05-28T10:15:00-04:00
Where:
Four Oaks Town Hall
304 N Main St
Four Oaks, NC 27524
USA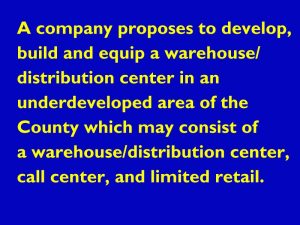 NOTICE OF PUBLIC HEARING and SPECIAL MEETING
Economic Development (N.C.G.S. §158-7.1(a))
The Johnston County Board of Commissioners has scheduled a special meeting to be held on Tuesday, May 28, 2019, at 10:00 a.m. The meeting will be held at the Four Oaks Town Hall located at 304 N. Main Street, Four Oaks, North Carolina.
The purpose of the special meeting is to hold a public hearing to receive public comment on a proposed economic development incentive grant. A company proposes to develop, build and equip a warehouse/distribution center in an underdeveloped area of the County which may consist of a warehouse/distribution center, call center, and limited retail.
The company has proposed the development in Johnston County in exchange for the extension of public water and sewer lines, if necessary, and certain economic incentives in the form of annual cash grants paid from general County funds over seven-year and five-year periods beginning after any specified requirements for investments and job creation have been satisfied. The County believes this project will help stimulate the local economy, result in new taxable capital investments in real and personal property, and the creation by the company of a substantial number of new, permanent jobs in the County.
The Board of Commissioners will solicit public comment on the proposed incentives at the public hearing. The Board of Commissioners will consider approval of incentives to the company in exchange for the company's commitments to
(1) plan, develop and build the warehouse/distribution center,
(2) create a number of new, permanent full-time jobs and
(3) invest in taxable business personal property additions that will return property tax revenues substantially in excess of the County's investment.
The cash grants are contingent upon, among other things, the company's entry into a local economic development agreement with the County containing the obligations and agreements of the company and the County.
All interested persons are invited to attend and present their views during this public hearing.